Tennis Tournament 2023
Thursday, July 27, 2023
Sport
Exciting Summer Tennis Extravaganza Rocks Porthcawl Comprehensive for the 15th Time!
Porthcawl Comprehensive Summer Calendar's annual event again hits our courts with a resounding boom, celebrating its magnificent 15th edition since its inception back in 2007. This year's extravaganza was nothing short of spectacular, drawing in our eager pupils with the irresistible allure of Wimbledon-inspired tennis fever. With lots of enthusiastic participants aiming to qualify for the tournament, the courts sizzled with adrenaline-pumping action throughout the week leading up to the competition. Pupils battled it out in the qualifying rounds, all with one burning desire – to claim the coveted title!
The anticipation built steadily as each match unfolded, bringing us closer to the grand showdown that took place on Wednesday and Thursday in July. The air crackled with excitement as the finalists emerged, ready to put on a dazzling display of skill, determination, and sportsmanship.
In the fiercely competitive Senior Boys Final, the court witnessed a tennis maestro in the form of Will Mitchell. Displaying a level of mastery that left the crowd in awe, he triumphed over 64 players, emerging as the ultimate champion and proudly retaining his well-deserved title. Standing tall against fellow year 10 pupil Henry Munro, Will sealed the deal with a dazzling score of 6-2, cementing his legacy as the undisputed ruler of the courts.
Not to be outdone, the Senior Girls Final showcased another exceptional talent, Sophia Evans, who proved that experience truly counts when it comes to the game of finesse and skill. With an air of absolute authority, Sophia defeated her opponent Gwen Williams with an impressive score of 6-1, asserting her dominance and seizing the crown as the Queen of the court.
But that's not all – the tournament's future stars, the incredible talents of year 7, had their own thrilling battles on the court! The youthful exuberance and raw talent were palpable as Josh Davies emerged victorious in the boys' tournament, while Leila Williams displayed remarkable prowess in the girls' category, etching their names in the records as ones to watch out for in the years to come. Their exceptional performances in the main tournament left no doubt that they're destined to become future contenders in the world of tennis.
Our heartfelt congratulations go out to all the 150+ participants who gave their all in this epic sporting showdown. For those who came oh-so-close in the qualifying rounds, your dedication and passion inspired us all, and we can't wait to witness your incredible talent on the courts again next year.
Porthcawl Comprehensive Summer Calendar's 15th edition has certainly etched itself into the annals of sporting history, and we're already counting down the days until the next thrilling instalment. Until then, keep swinging those rackets, nurturing your love for the game, and preparing to set the courts ablaze once more!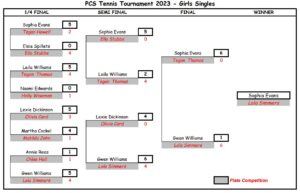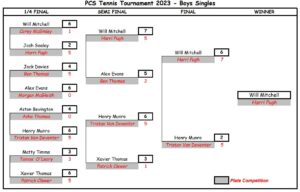 Previous winners of this tournament can be viewed here: TENNIS TOURNAMENT HALL OF FAME