Anti-bullying
What to do if…
You are being bullied – Tell somebody, your form tutor or your Head of Year.
ANTI-BULLYING CHARTER
As a pupil of Porthcawl Comprehensive School, I understand that:
I have the right to be happy, safe and to be treated with respect inside school.
I also have the right to travel to and from school without being bullied.
I will always treat others with respect.
I will not tolerate bullying; neither will I bully others.
I will not judge others by appearance alone.
I will accept others regardless of race, religion, culture or disability.
If I am bullied, I will tell an adult and ask for help – bullying is too serious not to be reported.
The school will treat complaints of bullying seriously.
The school will then deal with bullying quickly, firmly and fairly.
I DO NOT DESERVE TO BE BULLIED.
ADVICE TO BULLIED PUPILS
If bullied a pupil is advised to:
try to stay calm and look as confident as they can
be firm and clear; look the bully in the eye and tell them to stop
get away from the situation as quickly as you can
tell an adult e.g. a teacher, what has happened straight away
tell the 'Peer support listening service'
tell their family
take a friend with them if they are scared to tell an adult by themselves
use the support services in school
not blame themselves for what has happened
Advice from the Welsh Government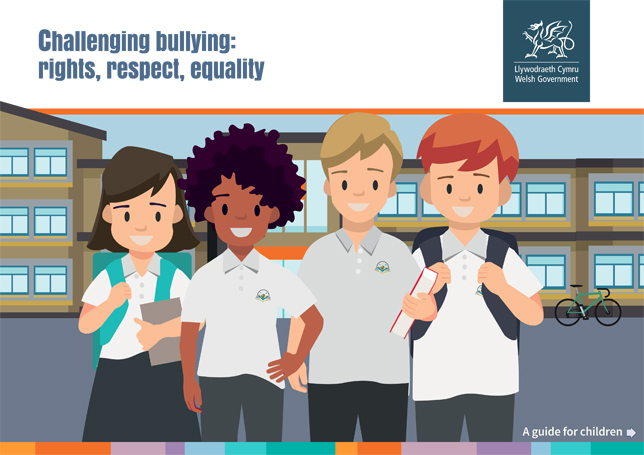 Click here to download our 'Are you being bullied?' leaflet.
Advice to Bullied Pupils / The Role of Parents/Carers